Our liquid filling machine can perform stable filling and weighing
by using a high-accuracy load cell.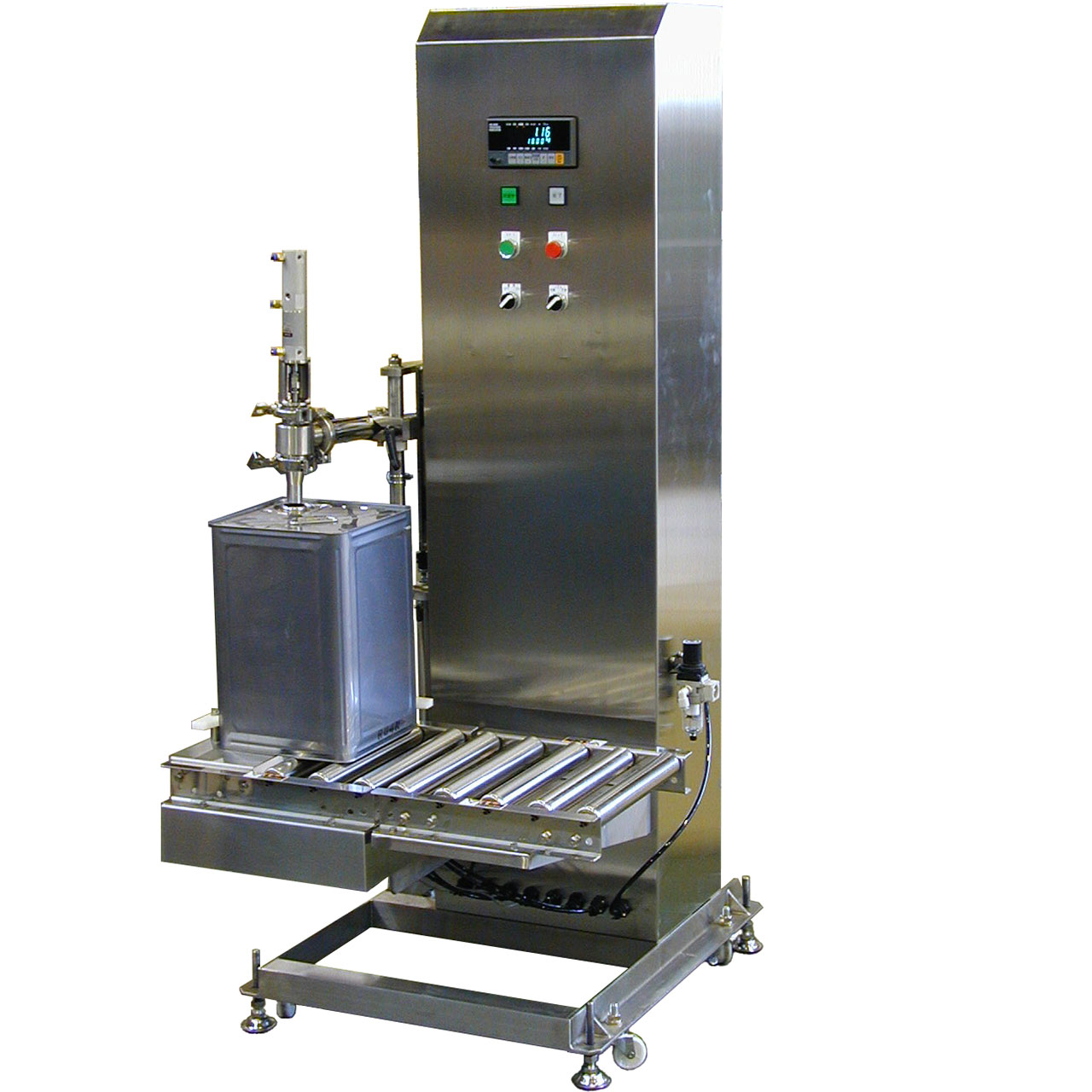 TFM-30S
This photo is added options (scale upper roller conveyer, set-base with roller conveyer, long nozzle, drip-prevention device, capacity setting method indicator).
Features
Weighing capacity is 30 kg
With excess/deficiency judgment function
Two-step feeding control
Weigh accurately in case of deficiency by automatic feeding and adding function
Long nozzles are available as options for foaming liquids
Specification
Please inform us of the properties of weighed objects and specifications of filling containers etc. if you are considering ordering this machine.
Model
TFM-30S
Capasity of Scale
30kg
Scale Interval
10g
Weighing accuracy
± 20 g (under constant fluid pressure)
± 20 g(under constant fluid pressure)
Up to 90 to 100 cans/hour
* Weighing accuracy and capability vary according to liquid and supply conditions.
Weighed objects
Liquid viscosity 10,000 CPS or less
No foaming (If there is foaming, it will be a long nozzle option)
Piping connection port
1 1/2 ferrule connection
Weighing method
Load cell one-point type
Platform Dimension
350mm×380mm
Main Material
SUS (wetted part SUS 316 or SUS 304)
Weight indicator
Weight display part: character height 13 mm fluorescent display tube
Quantitative display part: character height 7 mm fluorescent display tube
Power Supply
AC100V±10%50/60Hz1A
Please prepare independent Class D grounding.
Air source
0.4~0.5MPa50L/min(ANR)
Option
Upper roller conveyor of a scale
Set-base with roller conveyer
Various connection ports (piping screw, flange, others)
Long nozzle
Drip prevention device
Capacity setting method indicator
Others
External dimensions
Width 710mm ×Depth 810mm ×Height 1,600mm